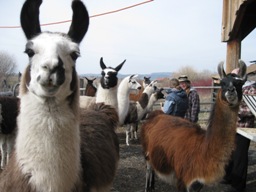 We love our llamas and we understand the sense of fascination many people experience with regard to these amazing animals. Our ranch visits are designed to give you an in depth look at the details of breeding, raising and training them. We also give you an opportunity to handle the llamas, pet them, comb them, lead them through obstacles, take them on a walk and get a sense of what they are like in person.
This is an excellent opportunity for families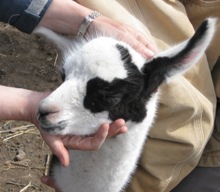 and people of all ages to spend a few hours getting close to a llama. The visits take place on our 'females' ranch so you may have the opportunity to see new crias (babies). YOu will see youngsters while they are still in the 'soft and fuzzy' phase of their lives.
Our ranch is only three miles from downtown Burns, Oregon and makes an excellent day trip. Please contact us for information about times, dates, and location. We look forward to sharing our llamas with you.
Fee: Three Hours: $40 Adults, $25 Child, $125 Family