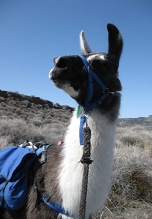 Llamas are the dolphins of the mountains. Our hiking trips provide an opportunity for you to experience their gentle companionship as they escort you into the vast solitude of the Oregon High Desert. Your llama companion will carry your gear as you move into a magnificent and timeless setting.
Our trips are designed to give you a taste of the Oregon High Desert environment. This is sagebrush steppe, complete with wildflowers, pronghorn, soaring raptors and wild clouds. Every day is different. Every trip holds something special. For those who wish it, each participant is given a llama companion for the outing. You will have the opportunity to interact with your llama as much as you like. You will be shown how to saddle and load, how to lead, handle and communicate with your companion. All the llamas are well trained and are certified with the Pack Llama Trial Association (PLTA) as competent pack llamas. Check out our training standards page to see what goes into making our llamas so special.
Your trip leader is a professional botanist, artist
and naturalist. She knows the country well and will happily introduce you to the flora and natural history of the area. Groups with specific interests such as birding, wildflower study, geology, photography or artistic pursuits are welcome to request hikes that focus on those subjects.
We have several locations for our day hikes. All are near Burns, Oregon and in view of Steens Mountain. We provide both half-day and full-day trips. Bring your own lunch and meet us at the trailhead for a delightful experience. Please contact us for information about times, dates, and location. We look forward to sharing the backcountry with you.
Fees:
Full Day (8 hours): $80 Adults, $55 Child, $250 Family
Half Day (4 hours): $40 Adults, $30 Child, $125 Family
All Half Day hikes and hikes for groups of less than four people are limited to the Skull Creek Country. Maximum group size is eight people.
Locations
Skull Creek Country
Just four miles from Burns, Oregon this area is wild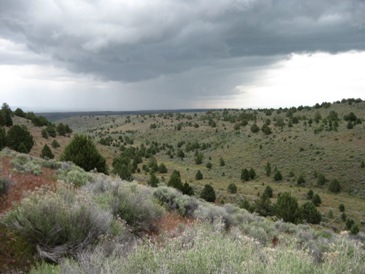 and empty enough that you would think it was the back of beyond. Ancient lava flows cut by streams now dry, have left rimrock tables and deep draws. The higher hills provide long views into Harney Basin and toward distant mountains. You can see Strawberry Mountain and the Steens from here. Spring wildflower displays can be fascinating. Cloudscapes are magnificent any time of year. The terrain is gentle and makes easy hiking.
Stinkingwater Pass
East of Burns where highway 20 crosses Stinkingwater Pass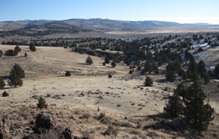 easy rambles provide wide views. Snowy Strawberry Mountain rises to the north, dark ponderosa forests cover King Mountain to the west while the land falls away to Stinkingwater Creek, the Malheur River, and distant desert ranges in the east. A year with plenty of precipitation brings a plethora of wildflowers. Elk and pronghorn frequent the area in spring and fall. In the winter this area is blasted by winds roaring in off Harney Basin. They twist the scattered juniper into bonsai shapes perfect for photos.
Jackass Mountain South of Burns, along highway 205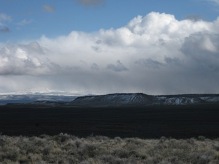 Jackass Mountain rises high above the Malheur National Wildlife Refuge. What you see from the highway is the scarp of a small fault-block mountain. What you find when you start exploring is a complex series of breaks and hidden lakes. The gently sloping western slope rolls into miles of desert few people visit. However, the herds love it. Wild horses, mule deer and pronghorn sometimes gather in great numbers. It is not uncommon for a few of them to wander close to the rim. Together with the abundance of raptors, they make the area a special wildlife viewing experience. The scarp itself is nearly 30 miles long. Llama trips along it can take place anywhere from 30 miles south of Burns to directly above the town of Frenchglen. They can vary from gentle to rigorous. All will provide spectacular views and an excellent opportunity for wildlife viewing. We also provide pack trips in this area.