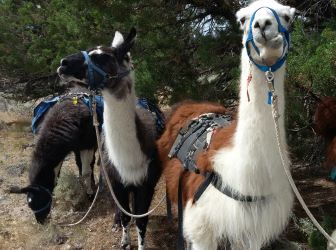 Greetings from the Oregon Outback.
Here in the rugged desert of Harney County we breed and train Classic Ccara Llamas for work and performance. Our breeding program is dedicated to producing intelligent, friendly, hardworking llamas with the conformation and spunk of an athlete. Our animals have the endurance to put in a full day on the trail, the elegance to win in the show ring, and the temperament to be a trusted companion. As part of our effort to produce excellent well-rounded workers, we train extensively beginning when the llamas are crias. When we sell a llama, we carefully match their training and personality to that of a prospective owner. Only the'retirees" get to laze about on our ranch, and they have earned it. All the rest are kept busy, either as breeding females or as working pack llamas.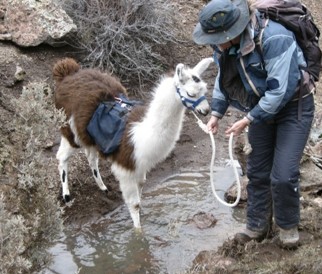 We are also teachers of custom llama training for both you and the llamas, be it through wilderness trekking, day hiking or farm visits. We are pleased to be able to share our animals and experience with you.

Thirty years of learning have gone into our training program. We consider our llamas partners in our endeavors. Our goal is to create an ongoing conversation with them and our methods produce champions. In an effort to pass on our knowledge, we offer workshops suited specifically to your needs. We have a wide spectrum of training opportunities, from basic training of new borns to advanced training for pack strings.

We also host PLTA Pack Llama Trail Associationpack trials and provide training for potential pack trial certifiers.

We welcome you to join us.